CLT and GLT in use around the world
CLT & GLT around the world – USE TIMBER TO MAKE OUR PLANET MORE SUSTAINABLE AND LIVEABLE
Timberlink is excited to be entering the growing market mass timber market with a brand new CLT (Cross Laminated Timber) and GLT (Glue Laminated Timber) manufacturing facility due to be completed in 2023.
Timberlink's CLT & GLT plant will be the first of its kind in Australia, combing both CLT and GLT in the one facility. The growing mass timber construction market is going to contribute to both the modernisation of the Australian building and architectural landscapes as well as reducing the emissions by using the ultimate renewable, Timber.
With new technologies come new opportunities and there is no doubt that the potential of laminated timbers is only just beginning to be realised around the globe and in Australia.
Professor Alex de Rijke is responsible for the often quoted statement, "If the 20th century was the century of concrete, then the 21st century is about engineered timber." Prof. de Rijke has a record of pioneering the innovative use of engineered wood products.
The global cross laminated timber (CLT) market is expected to reach $1.6b in 2024, growing by around 15% per year between 2018 and 2024. The cross laminated timber (CLT) market is likely to be driven by rising product demand for construction and building applications, due to its cost-effectiveness and low carbon footprint.
Timberlink is at the forefront of this building revolution and looks forward to working with architects, specifiers and developers to deliver the green buildings of our renewable future.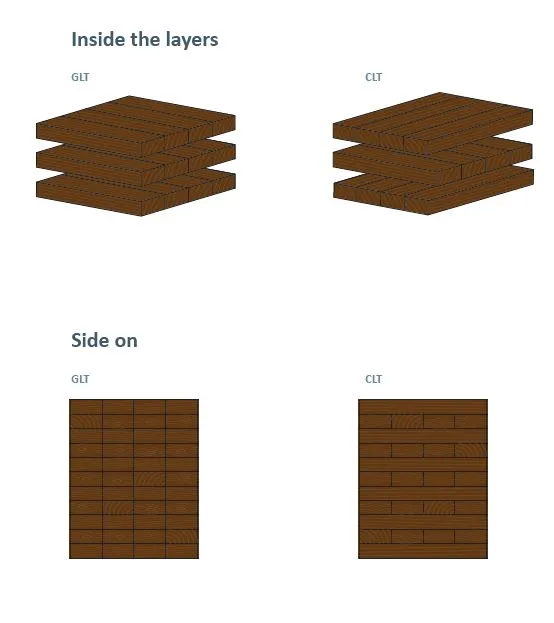 Benefits of CLT & GLT
The FWPA's (Forest Wood Products Association) Mid-Rise Program Advisor Paolo Lavisci says "studies and lived experiences reveal a variety of benefits to the use of structural wood products, ranging from production through to the end user.
Perhaps the most pertinent of these impacts lies in the growth of structural wood products themselves. Trees receive much of the energy required for growth through the process of photosynthesis in which the plant absorbs CO2 from the atmosphere, locking it away for as long as the wood remains solid, as even after their first use structural timber elements can easily be re-used or re-processed into other wood products." As we know, timber is the ultimate renewable!
A calculation based on the effective growth data of Australian sustainable softwood plantations only (no virgin or old-growth forests), that is typically used by local manufacturers of structural glulam and CLT, and on the current production yields, shows that the times for sustainably growing the structures of a building are really short, just hours.
The below shows how quickly softwood plantations grow. The entire amount of timber from these buildings is regrown in just hours. And when that timber is grown it is absorbing CO2 and releasing oxygen into the air. Conversely, alternative materials like concrete or steel create mass amounts of pollution. "For a tenant, choosing a wood-based building is the best way to validate their intentions of tackling climate change" says Paolo.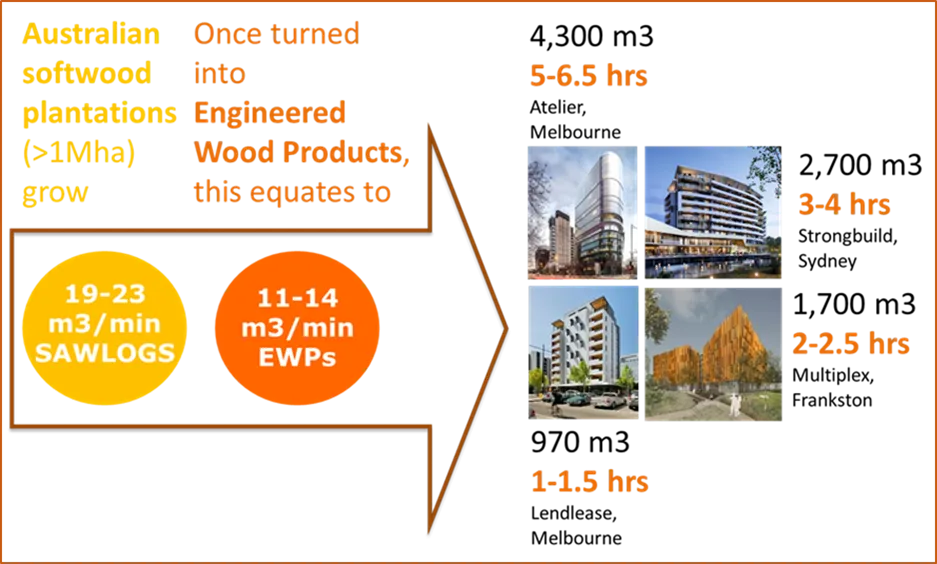 We thought we would take a look at some of the high-profile sites that have used laminated timbers both at home and abroad.
Around the world
Mjøstårnet Brumunddal, Norway
This is officially the world's tallest timber building as assessed by the Council on Tall Buildings and Urban Habitat.
The 85 metre-high tower was built using cross-laminated timber (CLT). Sitting aside Norway's largest lake, the building used local resources where possible to keep its carbon footprint as low as possible.
[A boat is docked next to a body of water Description automatically generated]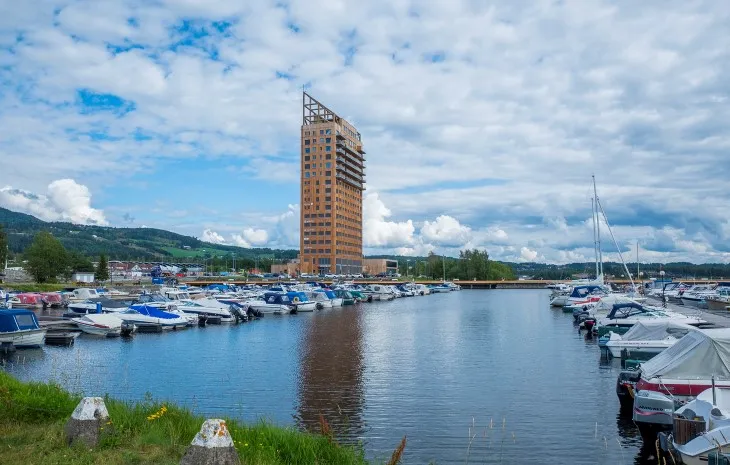 Brock Commons – Vancouver
A previous holder of the title of "world's tallest timber building" is the 53-metre-high Brock Commons Tallwood House in Vancouver. The Brock Commons is a hybrid structure with wood and concrete forming the core.
Pleasingly the builders found that it was even quicker and easier to build with timber than they expected.
"We found that working with wood, we could reduce timelines for construction. The assembly of the wood structure went up incredibly quickly, faster than we even expected", John Metras, Managing Director of Infrastructure Development at UBC was reported to have said.
In Australia
25 King St – Brisbane
The Aurecon building is currently Australia's largest engineered timber building. It opened in Brisbane in 2018 and was designed by Bates Smart. It stands at 10 stories tall or 45 meters in height. It is used as an open plan office complex and pushes the boundaries of what people in Australia thought was possible from a timber construction.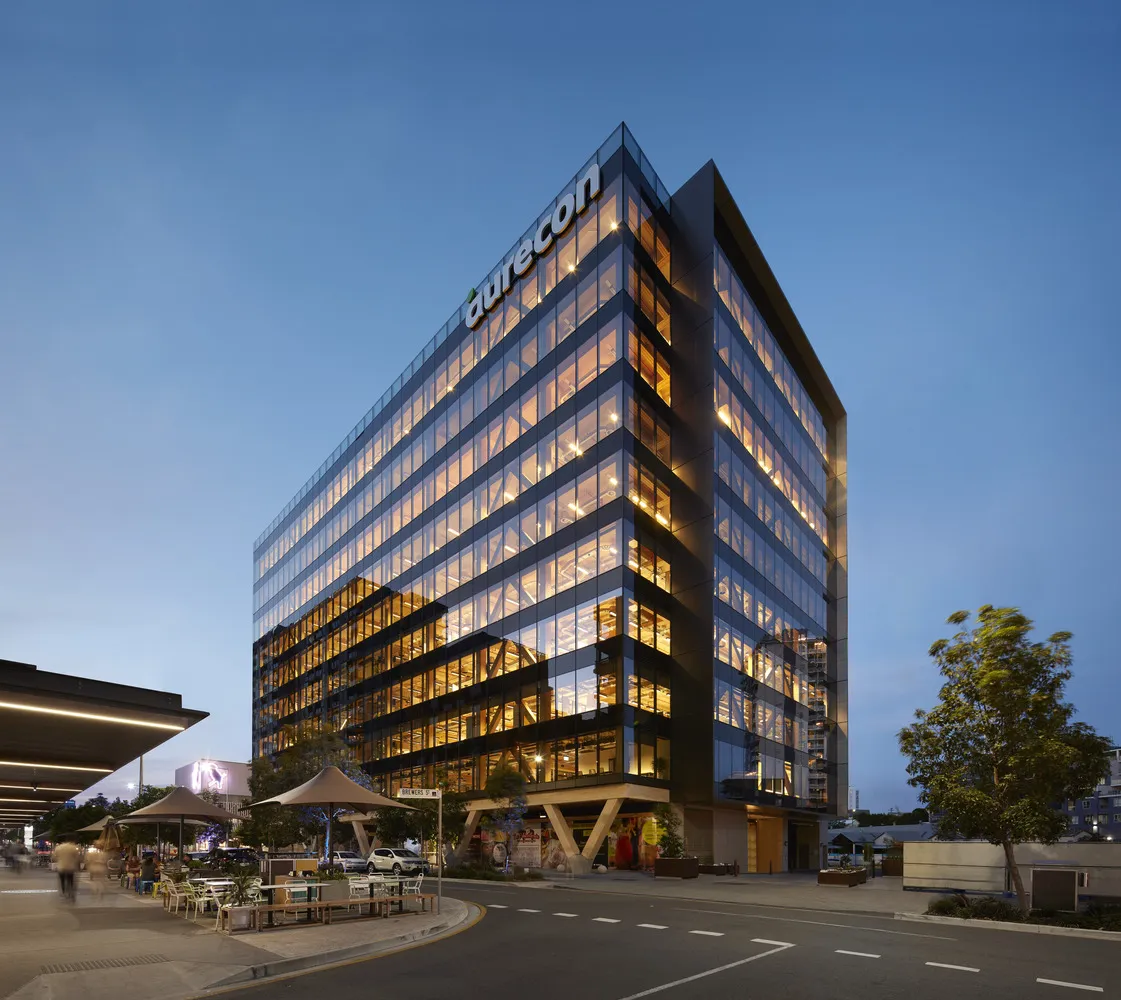 Docklands Library – Melbourne
This building does it all on the environmental front. It is clad from reclaimed hardwood and made from FSC approved timber. The building is designed to use natural ventilation, and this is all contributes to it being Australia's first building to be awarded 6 stars in the green star award rating system.
The 3 story building sits atop a heritage listed wharf and was built in a partnership with Places Victoria, The City of Melbourne and Lendlease. The building is hub for Docklands life and can be used for exhibitions, performances and has entertainment spaces, digital studios and a café.
Upcoming projects
55 South Bank – Melbourne
Southbank is a cultural hub in Melbourne, often forward looking this area has broken through with design innovations time and time again and is home to buildings such Crown towers, Australia's tallest apartments the Eureka Skydeck and the soon to be completed Australia 108, set to be the highest residences in the southern hemisphere. So this innovative extension will fit in perfectly.
In what will be one of the world's tallest CLT projects, a 10 storey vertical extension engineered by Vistek is taking place at 55 Southbank. It will more than double the height of the existing structure.
When completed, the CLT structure will top out at a height taller than the world's tallest current timber building. The final structure, designed by architects Bates Smart, will be the tallest timber vertical extension in the world. It will demonstrate to building owners and developers a whole new opportunity in creating value in an environmentally friendly way.
The worlds tallest timber vertical extension, made possible by CLT!

(Image shown at top)
Atlassian tower – Sydney
Australian tech giant Atlassian is planning on building the worlds largest commercial timber hybrid tower in Sydney at Central Station. The 40-story building will be an incredible 180m tall and take on up to 4000 staff with a youth hostel, restaurants and bars below.
The building will be a composite of steel, CLT and GLT.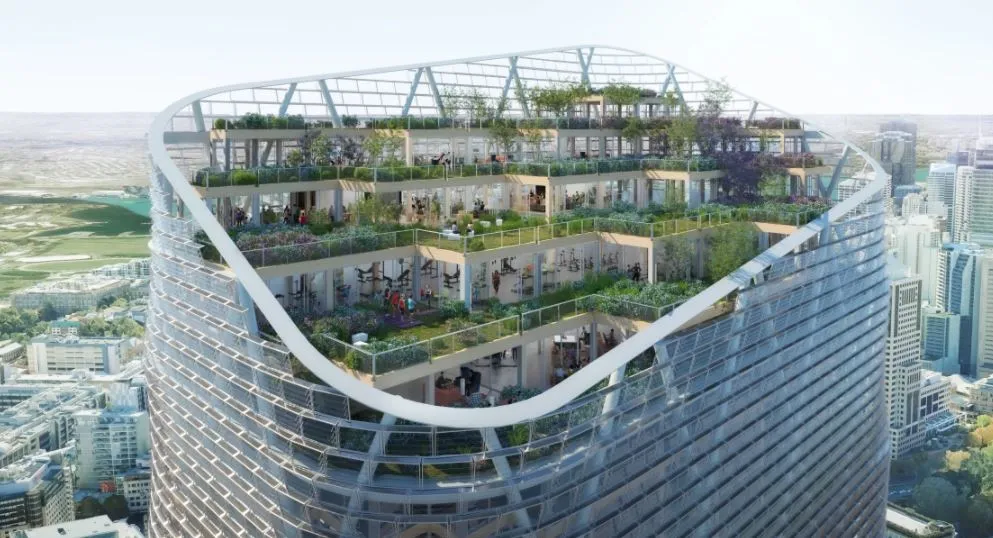 Other Major Timber Projects in Australia
Completed
Aveo, Sydney
Kambri, Canberra
Gillies Hall, Frankston
The Seed House, Sydney
Adelaide Oval
Taronga Zoo, Sydney
LaTrobe Uni student accommodation, Bundoora
Northumberland street, Collingwood
Ballarat GovHub
Monterey Apartments, Brisbane
Melbourne Connect (no case study, Lendlease didn't want…)
Upcoming
2 offices (Hines)
Melbourne Central (GPT)
Bendigo GovHub
Geelong (Watpac)
If you would like to talk to Timberlink about a future CLT or GLT project please visit  https://www.timberlinkaustralia.com.au/contact-us and send us your details.