Meet Lucy – She's giving you a more consistent stick of timber
Who is Lucy?
New, sleek and with all the latest scientific know-how, our new Lucidyne grade scanner will give you a more consistent stick of timber.
As a proud Australian manufacturer, we want to stay on top of the game, and that means staying at the forefront of technological advancements. This new Lucidyne scanner, or "Lucy" as we like to call her, uses AI technology to scan our wood with precision far beyond the human eyes capabilities. This provides us with the assurance of a level of quality that wasn't possible a few year ago.
"Lucy is just a great piece of high tech gear" said GM of Operations Mike Bitzer. "She takes the guesswork out of timber grading."
"Instead of looking at a piece and making assumptions based on out dated theories about knots or grains, we can use precision engineering technology to give us the best outcome."
At Timberlink, we know the importance of product being consistent and fit-for-purpose and that's why we have invested heavily in this high tech gear at our mills to give you a straighter, more consistent piece of timber. You no longer need to look at the grains, you don't have to inspect the knots and the old bang test is certainly out the door.  Every piece is labelled with the grade and you can trust that is the case.
It's true that grading methodologies were once much more manual, but Lucy uses multi-sensory imagery technology in conjunction with new self-training Perceptive Sight software to ensure each piece meets the structural properties required under Australian standards and also exceeds the minimum visual requirements.
There have been many exciting technological advancements in recent years. Along with the traditional machinery in the sawmill such as kilns and the planer mill, Timberlink now uses Continuous Flow Kiln (CFK) technology, acoustic density grade sorting, warp tunnel detection, infra-red scanning, big data analytics and even AI at our mills.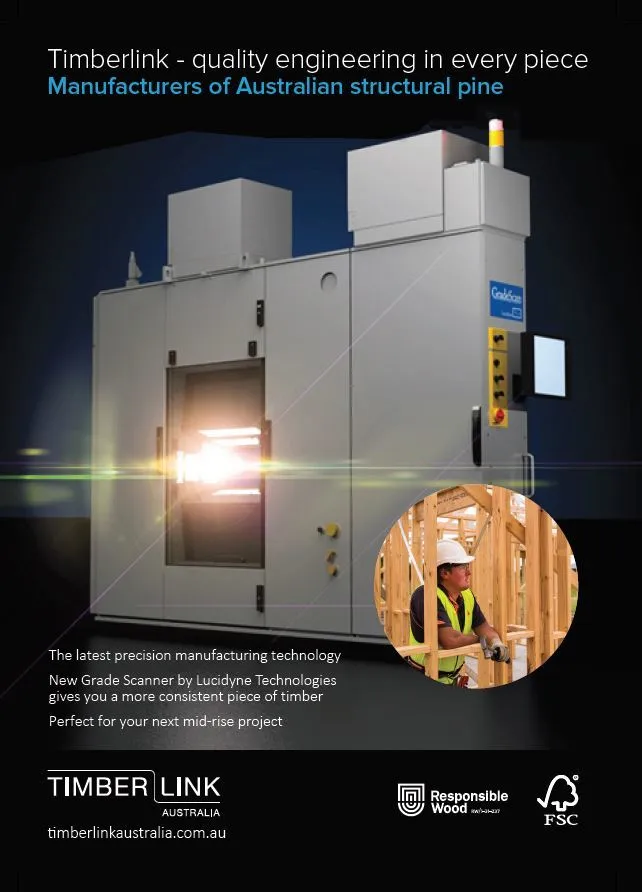 Now, every piece of our engineered Australian structural pine is accurately and consistently graded by these machines.
"Like every tradie knows, you need the right tools for the right job or you'll be left behind. Lucy uses similar AI technology to that used to drive driverless cars, to aggressively detect defects," said Mike Bitzer. "If there are any defects that really impact the structural proprieties of the timber, Lucy will find them."
"Being a natural product there is some variation, but you can be sure that each piece is engineered with the latest gear to ensure Timberlink produces the most consistent piece of timber for our customers, right here in Australia."
To keep the timber straight right through to installation, please ensure you keep pine framing stored safely and protected from weather on all your job sites.