Timberlink helping business big and small
Timberlink helping businesses big and small in every corner of the country
Capeview Building Products is a family owned business based in the Wonthaggi, around 2 hours' drive south east of Melbourne. The company started 55 years ago as a building business, before moving into frame and trusses over 30 years ago.
Today, Capeview Building Products does doors, windows, screens and kitchens as well. They employ 65 people, taking young apprentices from the area each year, something that they are very proud of. "We've got one apprentice and we'd like to take on more, I stared here as an apprentice over 30 years ago myself" said site manager, Peter Sheerin.
Driving down the road out of Wonthaggi on the highway towards Cape Paterson, Capeview strikes you as about as quintessentially regional Australian business as you can get. A big site on the main road, friendly, down to earth staff and warm charm the belies the harsh Australian climate.
The site has expanded many times over the past 30 years with new technology, equipment and safety upgrades. Despite being a family run business they are a high-tech fabricator, with a double ended table press from the USA that has an automated puck system to start the building process. This system dramatically increases efficiency from the old manual C press system. Capeview also has a new framing jig that was installed in 2017.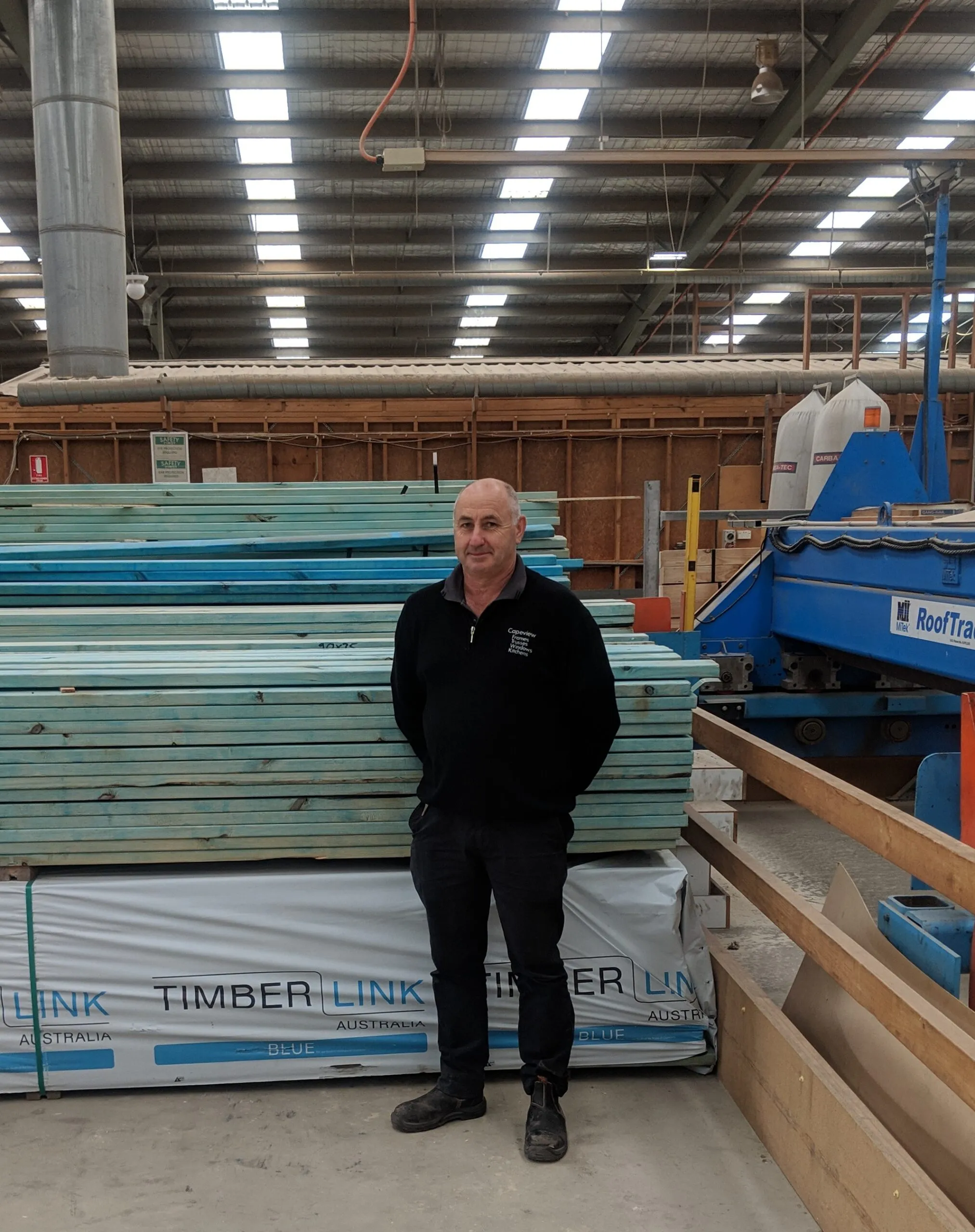 One of the more ingenious parts of the frame and truss plant has been the conversion of the old jig into one that makes rake walls. An on-site engineer came up with a system that allows the timber to come through at an angle on one side to suit the shape of the wall.
As technology has changed, so have some of the demands from customers, with more increasingly focused on the environmental impact of their building materials. Capeview recently supplied materials for projects such as the Cape Sustainable Residential Project. Timberlink is Australia's only major softwood sawmiller with both the FSC and RW/AFS environmental certifications.
These environmental concerns combined with cost and flexibility are the reasons that site manager Peter Sherrin gives for the continued preferred choice of timber over steel amongst his customers. "It's a real pain to build with steel, and when you're done you can still see screws on the outside of the fixings".
One thing that has not moved as quickly as Peter would like is the demand for termite protected timber. He laments that only a fraction of his sales are in this category, despite Wonthagi being known as an area for termites. He puts this down to a lack of knowledge from builders and end users on the matter. Timberlink Blue has a 25-year warranty and is safe for family and pets, it's a no brainer in areas like Wonthaggi according to Peter.
Peter Sheerin enjoys having dedicated account manager Adam Watson from Timberlink to help him when required. He knows he can have any questions answered and believes that personal relationships are the key to building and maintaining businesses of his size.

Peter was particularly thankful to Timberlink and to Adam during the recent timber shortage "Timberlink did well for us, I thought they juggled it all well and having that relationship with Adam really helped".
Being a smaller, regional operator can have its challenges though. Peter has noted the number of larger builders moving in the area in the past 5 years, most of whom don't buy locally. This problem has only been exacerbated by the recent slowing of the market in Melbourne, forcing builders to look further out for business.
Despite this, Peter and the business have faith that with continued investment in technology, some good old-fashioned Australian ingenuity, local knowledge and good strong relationships that Capeview can continue to be successful for many generations to come.
Timberlink: Supporting businesses of all shapes and sizes