Sleepers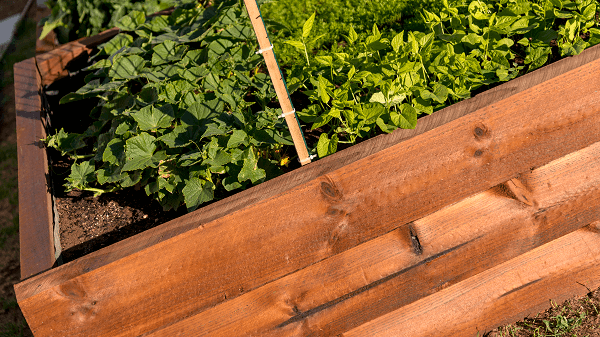 Timberlink Sleepers* are the cost-effective way to give your garden a fresh new look. Our non-arsenic treatment makes them perfect for all your non-structural landscaping projects such as garden edging, raised veggie beds and sandpits.

Not available in all states.
Timberlink Sienna Sleepers 
For a different look, we also manufacture Timberlink Sienna sleepers which are cost-effective, durable pine sleepers pre-coloured during manufacture to give the appearance of a hardwood sleeper.
The red-brown colour, is pressure treated into the timber along with the non-arsenic preservative so it is long lasting. In an exterior project, where the sleepers will be exposed to sunlight overtime, the colour pigment will change to a warm tan and over the years will gradually fade to driftwood grey.
Suitable Uses
Landscaping sleepers are suitable for outdoor non-structural landscaping applications.
Treatment
Timberlink Sleepers are treated with Tanalith-E and Timberlink Sienna sleepers are treated with Copper Azole. As these contain no arsenic, there are no usage restrictions making them perfect for veggie gardens or play areas.
Range
| | |
| --- | --- |
| End-Section Sizes (mm) |  200 x 50, 200 x 75 |
| Lengths (m) |  1.8, 2.1, 2.4, 3.0, 3.6 |
Always use hot dipped zinc galvanised steel or stainless steel fixings when building outdoors to prevent rust.

Fix sleepers into place well – Sleepers are treated then dried naturally, so they can move while acclimatising. To prevent this, use fixings suitable for holding sleepers in place (bolts are great) and fix to support posts at regular intervals.

Reseal Cut-ends – When you cut a piece of outdoor treated timber you break open the protective treatment envelope. To reseal the timber, apply an outdoor resealing product like Ecoseal® or Enseal® to any cut-end, available from your timber store. As an extra precaution, avoid placing cut-ends into the ground.

Apply a Finish – Protect your outdoor timber from weathering by applying a good quality finish like a paint or stain to your project. While Sienna sleepers feature long lasting colour, they may be painted with a water repellent which will ensure optimum serviceability, appearance and dimensional stability overtime. 

When handling and cutting any timbers it is advisable to wear dust masks, goggles and gloves. Do not burn any treated timber.
As a non-structural product, sleepers are most effective for walls no more than 1000mm high. Drainage should be provided behind walls more than 400 mm high to prevent the build-up of groundwater. We also recommend installing some geotextile between the sleepers and backfill and between the drainage pipe and the backfill.