Decking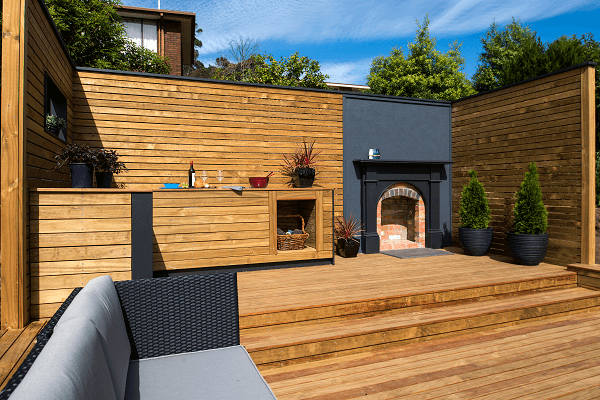 Timberlink decking is suitable for building decks and outdoor screens. It can be painted, stained or oiled to suit any style and it is available in a variety of lengths so you can minimise waste and save money by purchasing only what you need.
Timberlink decking is treated to an H3 level. This means it is suitable for outdoor above ground applications but cannot be used in direct contact with the ground. For in-ground contacts choose H4 treated timber.
Timberlink Decking Range
Sizes (mm)
70×22 (smooth both faces),


90×22 (smooth on front side, rippled on reverse)

Lengths (m)

2.4, 3.0, 3.6, 4.2, 4.8, 5.4, 6.0
Availability may vary across states.
Installation and Safety Tips
We recommend Timberlink Green Outdoor Structural Timber be used to construct the decking frame as this will provide a durable stable platform for your deck.
Where treated wood products are cut, notched, drilled or rebated the exposed areas must be coated with a suitable resealing product to ensure that a treatment envelope is maintained.
To prolong the life of your deck, it is strongly recommended that all treated wood products installed in weather exposed situations are stained, painted or oiled to maintain optimum serviceability, appearance and dimensional stability
Galvanised decking nails or decking screws should be used along with corrosion resistant hot dip galvanised fasteners and connectors. For decks built in harsh environments such as close to the coast, stainless steel fixings should be used.
We recommend leaving a 5mm gap between each decking board if you are laying dry decking but no gap between boards if you are laying wet decking. Note WET decking is sold wet which means it hasn't been re-dried after treatment whereas DRY decking has been re-dried.
Timberlink decking is available with a smooth finish both sides or with one smooth side and one reeded side. It comes down to personal preference which side you would like facing up though reeded side down does reduce dirt build-up helping to prolong the life of the deck.
When handling and cutting any timbers it is advisable to wear dust masks, goggles and gloves. Do not burn any treated timber.
All Timberlink decking is treated in accordance with Australian Standards and with arsenic free preservatives.