Timberlink recently worked with the Self-Help Workshop in Launceston to create an amazing new promotional product that is made of Timberlink's own Tasmanian grown plantation pine and is made with heart in the local community. The Timberlink Outdoor Buddy – the perfect solution to your outdoor entertainment needs.
The Timberlink Outdoor Buddy is functional, portable and light weight – ideal for extra shelf space in your caravan, the camp site or your beach house. It comes complete with wine racks and the Timberlink Outdoor Buddy can hold your cheese, crackers and grapes while you relax in the great outdoors or even just at home. This product is made from 100% FSC certified Tasmanian plantation pine which is manufactured at Timberlink's Bell Bay mill in northern Tasmania.
The Outdoor Buddies were crafted by local workmanship at Launceston's Self Help Workshop, which has been employing people with disability since 1962, making the Outdoor Buddy especially sought after. The Workshop currently employs over 50 people doing amazing community work and making a real difference to not just the employees, but their family and friends as well.
"We were very pleased and proud to reconnect with one of our former employees, Phil Moir, who works at the Self-Help Workshop. We organised for our timber to be sent to Phil and his team who, with the help of Robert Crawford (below) crafted this amazing product for Timberlink to use as a promotional gift for our customers, employees and other key partners in business", said Timberlink Marketing GM, Christine Briggs.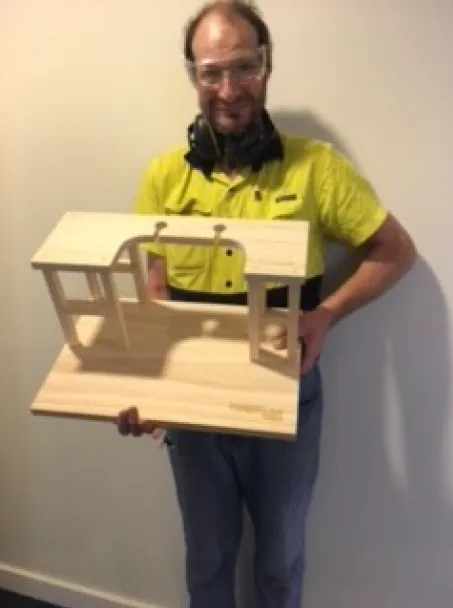 Robert Crawford, who made the Outdoor Buddy, has worked at Self Help Workplace for over 30 years and has twice won the enterprise's "Employee of the Year" award. He was very proud of his efforts on the Outdoor Buddy'.
Christine Briggs remarked that "it is a privilege to work with people who care about the quality of what they make, and we thank Robert for his hard work in producing a memorable gift that anyone would be pleased to receive".
This is another great example of Timberlink making connections and being integrated into its local communities, where we are a major employer that provides a multiplier effect on the local economy, because we do our business locally.