Wood – The Ultimate Renewable
An exciting mass media campaign has been launched by Forest & Wood Products Australia (FWPA) to promote the benefits of wood and timber products. Timberlink is encouraging everyone in the industry to support and promote it in any way that they can.
Why Campaign?
Market research has shown that the general population has a limited understanding about forestry practices, so "The Ultimate Renewable" campaign is aiming to increase public awareness that
• Every tree that is harvested is replanted
• Trees and therefore timber products soak up and store Carbon Dioxide, whilst alternatives such as steel and concrete create pollution
• Plantation timber is a renewable resource like wind and solar energy
How did it come about?
The Ultimate Renewable™ brand resulted from extensive collaboration between FWPA, the forest and wood products industry and consumers. Through focus groups and extensive data analysis, the consultation found that the most impactful messages were the idea of forestry being renewable, providing a wealth of benefits for the environment and tackling climate change, at a time when environmental issues are becoming increasingly important to Australian businesses and consumers.
Wood. The Ultimate Renewable™ is such a simple message, but it is powerful, concise and memorable. It will positively change public perceptions around forestry and by association, products made with wood. Research showed that, while the mainstream media was concerned with the perceived negative environmental impact of forestry, what was missing from the narrative was a focus on replanting.
Is Timberlink Involved?
Yes! Timberlink is proud to have been involved with The Ultimate Renewable campaign, from its inception through to the content of the final advert.
Why it matters to you?
• Research has shown builders are the number 1 decision makers in choosing the frame.
• We know builders like to use timber because it is easier to use, flexible, cost effective and stores carbon.
• Every steel house frame represents potential lost sales of timber and associated products for your business
There is a saying in marketing – "repeat repeat and you'll be sweet". That applies here with "The Ultimate Renewable". The wording is very deliberate, and we would like to see everyone the industry using the logo where possible and helping us spread the message. You are on the front line talking to builders, end users and specifiers every day. Which brings us to our final point
Timberlink will help you spread the message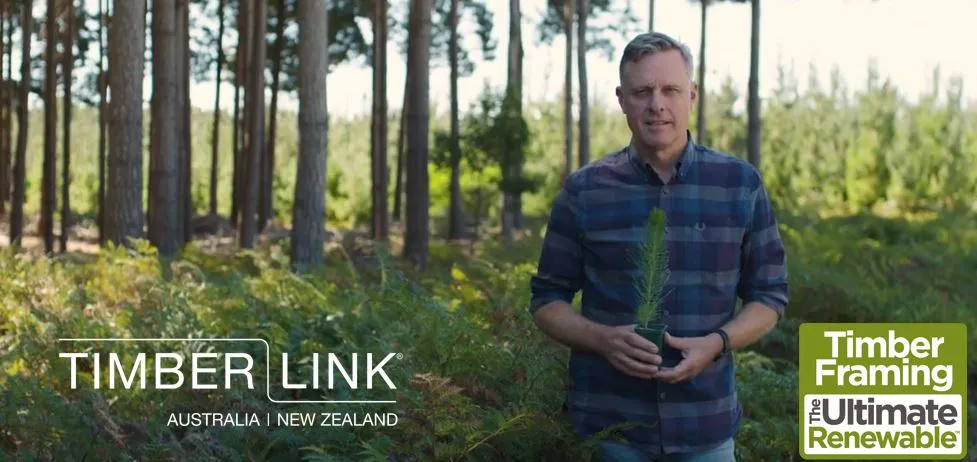 We can help you create tailored content for your business. This can be targeted at builders, architects or homeowners, depending on your business's needs.
This could include but is not limited to
• Social media posts
• Website or newsletter articles (these could also be posted on Social Media)
• eDM (emails) to your customers
• In store posters – explaining the benefits of wood, termite proof timber or timber treatment types, depending on your businesses needs
We know you are busy, so contact you your Account Manager or email our communications manager at tdonis@timberlinkaustralia.com.au to see how we can help!
When and where?
July – TV, online and outdoor media
August – Online and outdoor media and magazines
September – Online and outdoor media and magazines
We hope that the whole industry can stay united and get behind this message. Tell your customers, tell your friends and family – Wood is The Ultimate Renewable!